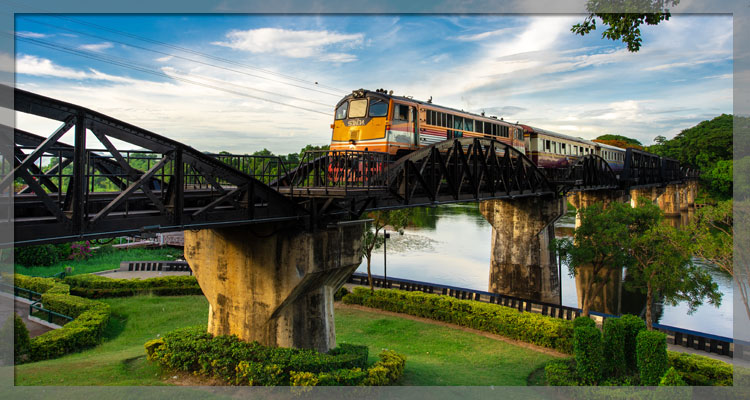 The River Kwai Bridge
Bridge over the River Kwai located in Taa Ma Kham Sub-district, Muang District, Kanchanaburi Province. The bridge was part of the railway lines in World War II and constrctecd by Japanese army. It was a railway between Nong Pla Dook, Ban Pong District, Ratchaburi Thailand, and Thanbyuzayat, Burma.
The Japanses army chose to build the brigde at Tha Maa Kham, Tha Maa Kham Sub-district, Muang District, Kanchanaburi Province, because of the rough terrain. A bridge was initailly built of wood approximately 100 metres upriver from the current bridge and it took three months to construct. After that the bridge was permanently constructed by steel imported from Malaysia and it was constrcut the railway track by British prisoners. The bridge was 300 meters long with eleven bridge piles. It was officailly opened on 25th December 1943. In November 1944, during the World War II, The center span of the bridge was collapsed in consequence of bombing by Allies. Finally the surrender of Imperial Japan was announced on 15th of August 1945.
Every year in late November till early December, The River Kwai Bridge Meomorial week and Kanchanaburi Red Cross Fair are held by government officers and stakeholders to commemorate those who built the bridge and to promote Kanchanaburi province.
At the River Kwai Bridge, Fairmong tram is available. The passengers can overlook the scenic view of the river and enjoy riding the tram.Service hours Morning : 8.00-10.00 Afternoon : 12.00-14.00 The fare is 20 Baht per person.More information about Fairmong tram, please contact 034-511285.General information please contact Tourist Police 034-512795 and call center: 1155