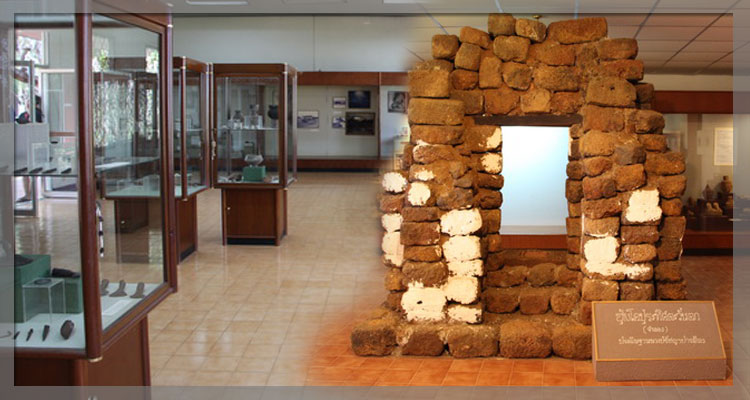 Ban Kao National Museum
Ban Kao National Museum located on the bank of The Kwai Noi River Moo 3, Ban Kao Sub-district ,Muang District , Kanchanaburi Province was initially established by Dr. H.R. Van Hickderen, the Dutch archaeologist, one of Allied Prisoners of the War. While He was constructing the bridge over the river Kwai, he found cracker stone tools and polished stone axes. When the war ended, he took the stones and researched in USA. This led Ban Kao site to the first systematic prehistoric archaeological excavation in Thailand. Ban kao excavation was conducted by Thai-Danish prehistoric expedition from 1960-1962 in the Kwai Noi riverside area of Mr. Lue and Mr. Bang Leung Dang where many prehistoric objects were found.
The Fine Arts Department constructed the museum nearby the archeological site to collect and exhibit the prehisroric objects found in Kanchanaburi. The museum displays 6 rooms: the 1st room presents history of Kanchanaburi, geography, geology, and natural resources; the 2nd room presents Ban Kao archeology area , prehistorical objects and the excavation timeline (since 1960) ; the 3rd room presents ancient wooden coffin found in Pheng-Pha Cave (located on the bank of The Kwai Noi and Kwai Yai River) ; the 4th room presents archeological objects found in Kanchanaburi; 5th room present development of Kanchanburi community, models of the prehistoric human community and photos of important antiques ; the 6th room presents the story of Prasat Mueang Sing.
Opening hours: 09.00-16.00 ( close on Mondays and Tuesdays) Entrance fees: Foreigner 50 Baht / Thai 10 Baht For more information, please contact 08-1994-9873